April 2020
ABLE Tech Assurances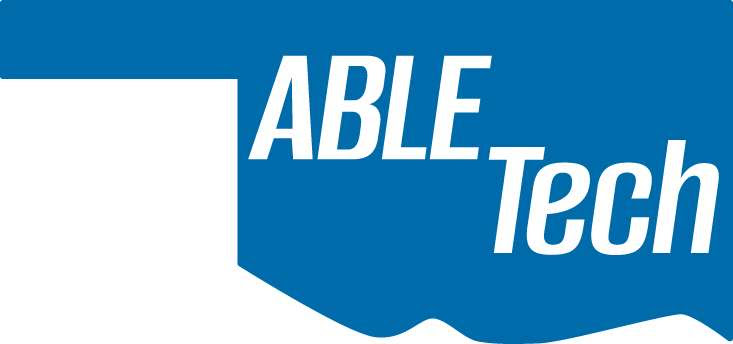 Organizations across the country are taking precautions to ensure community health and safety in light of COVID-19. The team at ABLE Tech, along with Oklahoma State University, has been carefully monitoring the situation and following the guidance of local and federal officials. We have a few important updates to share, and we will share the latest information as we have it. 
Note: Program changes are occurring moment-by-moment; however, ABLE Tech hopes to make additional services available, again, soon. Please check the website for timely updates.
We have decided to postpone all demonstrations and short-term loans for the time being. All applications received during this time will be put on a waitlist. Many of the clients' ABLE Tech serve fit within higher-risk categories as determined by the CDC, and we simply do not want to risk any health complications for anyone in our community. 
ABLE Tech will remain open at this time, with a few modifications. If you are sick or immunocompromised, or if you know you have been in contact with someone who has tested positive for COVID-19, we ask that you stay home. Please consider calling, zooming, or other virtual meeting consideration for questions, demonstrations, or other assistive technology solutions.
Within our offices, we are taking all of the recommended precautionary measures to keep our staff and visitors safe and healthy. These include regular sanitation of public spaces and surfaces, social distancing practices, and encouraging regular hand washing and sanitizing. 
We are monitoring the situation closely and will communicate any additional updates as we have them. 
We want our community to know that the ABLE Tech mission is full steam ahead. We are committed to providing the highest quality care and support for those with assistive technology needs in Oklahoma.
Updated Process for Borrowing Devices
ABLE Tech is excited to announce a new process for requesting device short-term loans!
Due to COVID-19, the short-term loan program is temporarily suspended. Once the program resumes, this new process will be ready to use!
The program has used an online database to track inventory and loans for over ten years, but now new functionality lets Oklahomans use that system to register, login, and submit a request to borrow devices from a public access side. There are multiple search functions to choose the best device(s) to borrow, and realtime feedback shows if items are on a waitlist. 
The system is quick, reliable, and completely confidential. Stay tuned for more information on how to get started!
Autism Awareness Month
Disability statistics show what classroom teachers already know - cases of autism are on the rise. During the last ten years, the prevalence of autism in the United States has risen from 1 in 125 to 1 in 59. The Autism Society of America is seeking to raise awareness of the signs, symptoms, and realities of autism during National Autism Awareness Month. The #CelebrateDifferences campaign focuses on providing information and resources for communities to be more aware of autism, promote acceptance, and be more inclusive in everyday life.
Assistive Technology Feature
Due to COVID-19, the short-term loan program is temporarily suspended. Please check the website for timely updates.
Weighted Monkey Tablet Pillow
Getting little learners to sit still and focus on tablet-based activities can be a challenge, but the Weighted Monkey Tablet Pillow may be a calming solution. The stuffed animal pillow incorporates weights to become an inviting, yet functional tool. The pillow is ideal for persons with many neurological challenges such as autism and sensory integration disorders. This weighted pillow will help those with anxiety and the soft fabric provides a soft and sensory deep pressure experience.
This tool is among the thousands of AT devices available to try with students.
Two AT Funding Workshops Planned in June
Note: These events are now a virtual offering.
Spots are filling fast for ABLE Tech's AT Funding Workshops! If your district struggles to find money to buy tools needed for students with disabilities, make plans to participate in one of these virtual ABLE Tech workshops, "Funding Assistive Technology for Students with Disabilities" on June 5th or June 12th.  
These free workshops are designed for Oklahoma public school administrators, special educators, and related service providers. Participants will learn how to plan and budget for AT, match students to funding options and practice writing grant applications. There are no pre-requisites for this workshop. Continuing Education Units (CEUs) will be offered for OTs, PTs, and SLPs.
AT Assessment Workshop - Part 3
Part 3 of our AT Assessment Workshop has been postponed due to the COVID-19 state education guidelines. Please stay tuned for a virtual option coming soon!
Transition-Related News
Note: Please reach out to the contacts below to verify the status of these events closer to the actual dates.
Great Plains Transition & Resource Fair
The Great Plains Region Transition Team is sponsoring the 6th Annual Transition & Resource Fair on April 9th  at the Great Plains Technology Center in Lawton. The evening is a come and go event that will focus on sharing community and state resources that young adults need to be successful as community members, employees, and students of higher learning.
Over 20 vendors from various agencies will be present, including Oklahoma ABLE Tech, with resources and information, food, refreshments, and Door Prizes will be provided. For information, contact Krista McKelvin at kmckelvin@okdrs.gov
INSTA Expo
High School students in Central Oklahoma are invited to attend the INSTA Expo in Shawnee on May 6. The event provides Transition-aged students the opportunity to interact with hands-on activities and engage with Skilled Trades industry experts. The event is sponsored by the Central Oklahoma Workforce Innovation Board.
Register online or contact Yolanda Scott at YolandaScott@cowib.org or 405.622.2026 ext. 301.
Linda Jaco, Oklahoma ABLE Tech Director
Kimberly Berry, Assistive Technology Teacher
Oklahoma State University
1514 W. Hall of Fame
Stillwater, OK 74078
Phone: 800.257.1705
Email: abletech@okstate.edu